Air fireplace with a 80 cm frontal. The style is characterized by the FRONT DOOR WITH GLASS ONLY, enhancing the flame, and the white refractory illuminates the combustion chamber. The simplicity of use is guaranteed by the DOUBLE OPENING of the door, sliding for loading wood and tilting for easy cleaning. The technology is achieved through DOUBLE COMBUSTION, which increases efficiency, and the COMBUSTION AIR PASSAGE keeps the front glass cleaner for longer. As an optional feature, you can have the ducting kit to extend the heating functionality with a high-performance motor of 700 m³/h capable of heating up to four rooms.
WOOD
The stoves with WOOD technology enclose in the simplicity of using wood as fuel an enormous respect for the environment and attention to tax incentives thanks to their certifications.
TECNOLOGY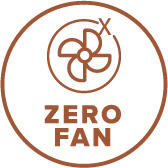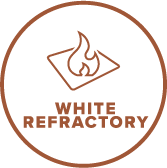 The hearth, in order to ensure high thermal efficiency and increase its lifespan, is entirely made of white refractory material.
The 'cold hand' handle is designed to be used in hightemperature applications. La poignée "main froide"
The Moretti retractable door system is provided with chains that ensure a long time resistance.
The 5 Star Certification represents the highest level of ecology and efficiency of the machines and guarantees top quality performance.
Each fireplace is equipped with wheels that allow for easy and comfortable movement.
Anti-Scratch Feet: Each Moretti Design Monoblocchi is equipped with anti-scratch feet that allow for easy placement without damaging the floor.
The Comfort of Warmth. Moretti Design's hermetic system allows for the utilization of all the combustion air for the stove from outside the home.
Thanks to the canalization function, Moretti Design fireplaces can heat multiple rooms simultaneously.
Thanks to the Zero Emission mode, the new Moretti Design inserts offer an ecological solution.
The products are already certified with the European standard (ECODESIGN 2022) which will come into force in 2022.
Moretti Design simplifies the cleaning maneuvers of your product.
OPTIONAL
It allows to duct hot air in to several rooms. For the stoves it is mandatory to insert room probes for a correct function of the product. Reaching the set temperature in all the rooms will put the stove into modulation.
The ventilation kit for Moretti Design monoblocks is a comprehensive and innovative system designed to ensure not only effective ventilation but also the transport of hot air to all rooms in the house.
The air intake kit for monoblocks is a hermetic option that allows air to be taken from the outside instead of the room where the monoblock is located.
The natural convection kit for monoblocks utilizes natural convection to heat the room or adjacent ones.
The compensating frame for monoblocks is the element that adds a touch of style and beauty to your space.
The handle of Moretti Design monoblocks is a distinctive feature thanks to its unique design crafted with a trichotomy of steel.
ENTER YOUR DATA AND MODEL INFORMATION
and let yourself be advised by our experts