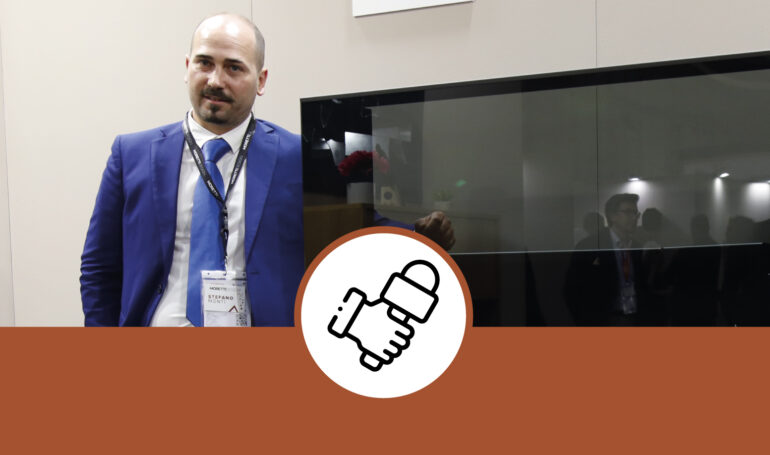 Interview with Stefano Monti | Forecasts for 2023 and 2024
Our Product Designer and Director of the Research and Development Technical Department, Stefano Monti, participated in an interview where he discussed the highlights of 2022 for Moretti Design and what the company has in store for this year and the next.
During the interview, Stefano Monti briefly explained his role in the company. Here is his response: "I am in charge of the Technical Direction of the Research and Development Department. I oversee the coordination and management of the three technical departments: Design, Laboratory – Technical Support, Certification – Research, in collaboration with their respective department heads. I am also the Product Designer of the company. My organizational work aims to enforce the technical objectives set by the ownership that are necessary for the company's development and growth. My creative role stems from true inspirations that are translated into materials and products."
Afterward, he focused on important topics for the company, explaining the successes that Moretti Design achieved in the past year, 2022.
In Verona, we participated in a Design and Beauty competition for the biomass heating sector, organized by the online magazine Fire Observer. Numerous companies from the sector, both national and international, took part in this competition.
At the end of the event, Moretti Design was declared the winner with the COMPACT VISION. The credit for this prestigious victory goes to the entire Moretti Design team, as each one of us contributed to the creation of this product.
Furthermore, our COMPACT VISION has also been entered into the competition organized by ADI INDEX2022, aiming to win the COMPASSO D'ORO 2022 in the field of Design for Living.
It is a great success that has given our company the right momentum to pursue the goals set for the year 2023 and 2024.
In fact, as Stefano Monti explains: "Our focus for 2023 and part of 2024 will be on the development of a new family of environmentally-friendly and emission-rated Design fireplaces and stoves, in line with the requirements of current regulations. Additionally, we will raise the bar even higher in terms of quality control for our products, which will be more technologically advanced and efficient, with a constant eye on Design."
He continues: "The challenge for the Moretti Design team is to make the company flexible, dynamic, and increasingly quick in its technological advancements, in order to anticipate the market and become a promoter of new products, just as it has been an inspiration for all companies in the industry in terms of product design since 2016."
Moretti Design has some truly significant innovations planned for this two-year period
Follow us to stay up-to-date with all the new creations! And if you want to learn about the 2022 winner or our other creations, visit one of our authorized Boutiques.
We look forward to seeing you!